About Our 2020 Giving Campaign
2020 Giving Campaign Press release
LAFAYETTE, LA. – Lafayette Family Eye Care, a local medical practice providing comprehensive eye care for patients of all ages, recently launched a giving campaign. The Lafayette Family Eye Care 20/20 Giving Campaign consists of two phases, with the first being a donation of $20,000 to Moncus Park in Lafayette. The second phase of the campaign entails giving $20,000 worth of gift cards to Lafayette Family Eye Care patients.
"We've launched this giving campaign as a way to say thank you to our patients as well as the entire community for supporting us for over 22 years." said Dr. Richard Piccione, pediatric ophthalmologist and eye surgeon at Lafayette Family Eye Care.
The $20,000 donated by Lafayette Family Eye Care is to be used toward building an all-inclusive playground within Moncus Park. The playground is currently in the design phase and is scheduled to be completed before the end of the year.
"The board and staff of Moncus Park are so grateful for Lafayette Family Eye Care's generosity towards this important part of our community's future," said Avery Adamson of Moncus Park. "The all-inclusive playground is something that everyone, regardless of age or ability, will be able to enjoy for decades to come."
"We believe that Moncus Park is deserving of this donation because we support their vision to build an all-inclusive playground as well as providing other wonderful amenities for everyone in the Lafayette community," said Dr. Piccione.
The $20,000 worth of gift cards to be given to Lafayette Family Eye Care patients in the second phase of their 20/20 Giving Campaign will be redeemable at virtually any local or national retailer.
"We're giving these gift cards to our patients to express our appreciation to them for choosing Lafayette Family Eye Care," said Dr. Erica Lukasko, optometrist and family eye care specialist. "It's our sincere hope that our 20/20 Giving Campaign will help make life just a little brighter for everyone in our community."
Located at 4906 Ambassador Caffery Parkway, Lafayette Family Eye Care has provided comprehensive services ranging from routine eye exams to diagnosis and treatment of various eye disorders, as well as eye surgery. Utilizing the latest in technology, they offer a full range of eye care for every member of the family.
Located on the former "UL Horse Farm" property in Lafayette, Moncus Park is being planned, built and operated by the non-profit Lafayette Central Park, Inc. In addition to the all-inclusive playground, the park will feature a lake, great lawn, dog park, walking trails and much more.
For more information about Lafayette Family Eye Care visit our website https://lafayetteeyecare.com/ or our Facebook Page https://www.facebook.com/lafayettefamilyeyecare.
For more information about Moncus Park, contact Avery Adamson at acomeaux@moncuspark.org or call 337-500-1177.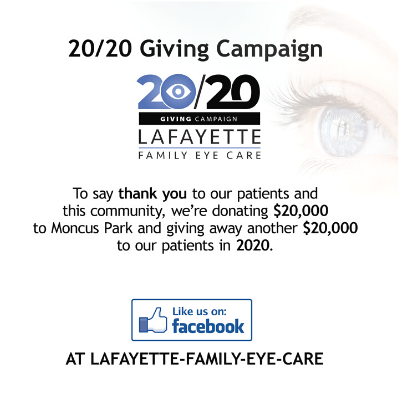 Download Press Release
Contact Us
Presentation of a check for $20,000 to Moncus Park
for an all-inclusive playground.