Pediatric Eye Care
---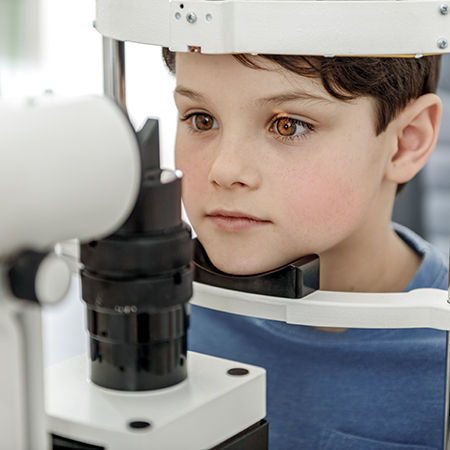 When considering your child and their health, it's important to see healthcare professionals that understand the intricacies of the developing child, especially healthcare professionals you can trust. At Lafayette Family Eye Care, we not only specialize in pediatric eye care, but we can also provide eye care for the entire family! Receive eye care that you can trust with the convenience of one doctor's office for every member of your family, ages 0-100+, right here at Lafayette Family Eye Care.
Pediatric Eye Exams & What to Look For
Visual acuity, which refers to the sharpness of your vision, is emphasized for children's eye exams. This involves reading an eye chart of letters or pictures, depending on the child's age and ability. Tests are adjusted for young children who are early-on in their speech development. Our doctors will test the fixation behavior in the eyes using toys or other objects that capture attention. In addition, highly accurate instrumentation is used to assess the ability of the eye to focus, along with dilating the pupil, to examine the retina. All children should have a dilated eye exam between three and four years of age, or sooner if you are concerned about any ocular symptoms.
When Should My Child See the Eye Doctor?
All children should have a dilated eye exam between three and four years of age. Children without eye health concerns or glasses should have an exam every two years throughout their school years.
Ages 0-5
A baby's visual system develops during the first few months of life as they learn how to focus and move their eyes together. At the same time, the brain is learning how to process visual information from the eyes, helping them to understand and interact with the world. Since the visual system is the foundation for a child's gross motor skills, such as crawling, walking, and hand-eye coordination, it is important to ensure that your baby is reaching developmental milestones.
Around the age of two, children begin to develop fine motor skills, fine-tune hand-eye coordination, and advance in perceptual abilities. As toddlers and preschoolers, children begin to identify colors and objects, read and write, play sports, and participate in creative activities. A child's continued development is dependent on good visual processes, which makes it important for parents to be aware of developmental milestones, such as color, object, letter, and number recognition, as well as coordination and perception.
A lack of development in any of these areas, from 0-5 years of age, could be tied to poor eye health or vision. Lafayette Family Eye Care encourages all parents to schedule a dilated eye exam for their children by the age of three or four, or sooner if you are concerned about any ocular symptoms.
Ages 6-18
As your children grow, they will still depend on the visual foundation of their development. If you notice your child struggling academically, socially, athletically, or personally, it could stem from undetected or uncorrected vision problems. If your child is suffering from any or all of the symptoms below, give Lafayette Family Eye Care a call and schedule an appointment for a comprehensive eye exam.
Short attention span
Headaches
Frequent blinking
Trouble reading
Often losing place while reading
Poor reading comprehension
Difficulting teaming their eyes
Poor hand-eye coordination
Tilting the head to one side
Double vision
All school-age children without eye health concerns or glasses should have an eye exam every two years. If your child suffers from an eye condition or wears glasses or contacts, follow the recommendations of Dr. Piccione or Dr. Lukasko on how often they should have a comprehensive eye exam.
To schedule an appointment today, give us a call or fill out our online form. We'll be happy to see you!